THE SEMI CUSTOM GUIDE
*please note this page is best viewed on a desktop format
Our wedding invitation guide has been set up to help you understand our semi-custom collections and the process of building your suite. We recommend referring back to this guide when purchasing your suite and filling out your information.

THE PROCESS
1.SELECT YOUR SUITES PIECES
Our semi-custom collections were designed to allow you the freedom to pick and choose a suite that is perfect for your wedding. You can mix and match suites as well as add on embellishments to really enhance your suite. The semi-custom collections also allow you to pick your printing method, paper and ink colors.
2.PLACE YOUR ORDER
Add each piece you have chosen to your cart and purchase all together. You do not need to worry about your suite customizations at this point. After we receive your order we will send you an email within one business day that will provide you with a link and password to send over all of your personal wedding information. This link will also be used to send over all of your proofing later in the process.
3.PROOFING
Once we receive your complete form back the proofing process will begin. We require all of your wedding information including guest addresses (if applicable) in order to start the process. First proofs will be sent to you within five business days. Once we send your initial proofs you will get three complimentary editing rounds to your order. Additional edits can be made for a fee.
4.PRODUCTION AND ASSEMEBLY
After we receive proof approval we will send your pieces to production! Production times can vary based on printing method and embellishments, If you are purchasing an assembly package we will begin assembly once all pieces are finished in production. Once ready to ship you will receive confirmation with tracking.
Digital printing is used to create a flat and smooth finish on all of our stationery pieces.
Letterpress printing is used to create an impression in the paper creating a beautiful and textured finish.
Paper Options
Digital Printing
Our standard stock for digital printing is a #120 eggshell paper in ultra white or standard white. Eggshell paper creates a subtle textured finish.
Our thick stock for digital printing features a #240 eggshell paper in ultra white or standard white. Eggshell paper creates a subtle textured finish.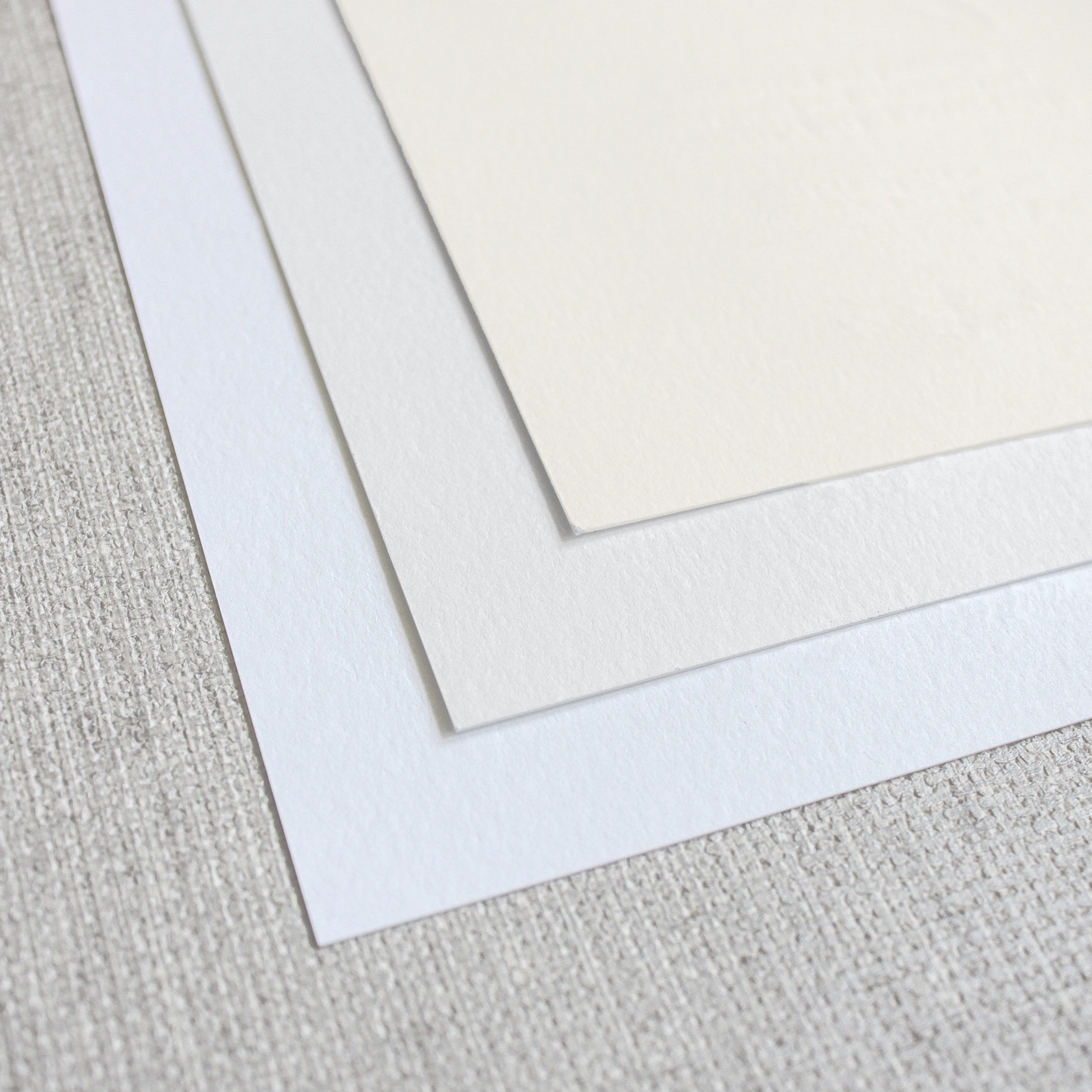 Our standard stock for letterpress is a #110 cranes lettra in ultra white, standard white or ivory. Cranes lettra paper is soft to the touch and has a beautiful but smooth texture.
Our thick stock for letterpress is a #220 cranes lettra in ultra white, standard white or ivory. Cranes lettra paper is soft to the touch and has a beautiful but smooth texture.
Ink Colors
We offer a set list of standard ink colors to choose from. We also offer an extended list of ink colors if needed.
Embellishments
Embellishments are pieces you can add on to your order to add unique touches to your suite. From color envelopes to wax seals we have something for you!
envelope colors
*Standard white envelopes are included with your purchase
envelopes are available in square or euro flap
All envelopes have a matte finish except for silver and gold which are metallic - vellum is translucent. Please note colors can vary between computer monitors, we recommend ordering a sample pack to see everything in person.
Vellum envelopes cannot be printed on and are intended as an inner envelope to hold your suite together or require a sticker. Please also note darker color such as navy require black ink. White ink is available for an extra fee - please inquire before purchasing.
ENVELOPE LINERS
All of our envelope liners are available in square flap or euro flap styles pictured below. The grey area of the top row of liners can be changed to any standard ink color we offer. Liners that have a * next to its name can have the colors inversed.
wax seals
Below is our standard wax seal designs. If you do not see a design you like please reach out as we have extended options. When you fill out your form and we have your color palettes we will send over color options with your proofs.
Some standard wax colors include gold, silver, rose gold, dusty blue and blush
Belly bands
Belly Bands are available in any of our standard ink colors. All belly bands can also be printed on a vellum paper.
Production & Shipment Times
Production Paper Only
Digital - 2 to 4 business days from proof approval
Letterpress - 14 to 21 business days from proof approval
Embellishments & Assembly
Add 1-2 weeks to production times
Shipping
Depending on the shipment we use USPS and Fed Ex
Shipment takes 2-5 business days
(please note we do not control usps or fed ex transit times. If you have any issue with your package it is best to reach out to them as they will have more information. Please also consider longer transit times during holidays)
*we may ship pieces separate for quicker delivery times
*generally we recommend ordering 1-2 months before your preferred delivery date depending on your needs and specifications.
Proofing Process
The proofing process can go as fast or slow as you would like it too. Once you place your order you will receive an email within one business day containing a link and password to your customized webpage. This is the link you can refer to all the way to shipment. There will be a form where you can fill in all of your information as well as view your proofs. Once we receive all of your information (including guest addressing if applicable) you can expect your proofs within 5 business days. After your first proof you have three complimentary edit rounds to your suite to make any changes.
Production Approval
Please be aware that once we receive proof approval no changes can be made to your suite. This includes wording, envelope colors etc. We highly recommend sharing your proofs with friends & family to have a fresh pair of eyes check for any errors.
Design Aspects
When purchasing a semi-custom suite all design aspects must remain intact. The design you see will simply be changed to your information. For example no borders, monograms or wreaths can be added to a design that does not already have it. If you are interested in combining suites please reach out before your purchase is made. (the only exception is response cards which can have meal selections etc added.)
Return & Cancellation Policy
Because of the customization of our products we do not offer returns, cancellations or exchanges on any products.
Refunds Due to Error
If there is an error on the invitation due to customer fault there is nothing we can do. Regardless of how the error occurred it is the clients responsibility to check all proofs for errors. Once we receive approval there is nothing we can do however we do offer discounted reprints for these mistakes.
If there is an error to your invitation that has been caused by us we offer complimentary reprints free of charge!
tips
When placing your order make sure to order a few extra sets. You will want extras to be framed as well as to have your photographer take photos. Additionally it is very costly to have to come back and print a small batch.
(Please note the minimum order for letterpress is 50 even for small batches)
2. When filling out your excel form for guest addressing make sure to type it out exactly as you would like it to appear.
Ex. Typing out North Carolina vs using the abbreviation NC
3. If you are extending a guest seat to someone that you are intending for a specific significant other make sure to address it as such.
Ex. Using Mr. Grant Parker & Guest
vs.
Mr. Grant Parker and Ms. Lily Black
make sure to read our stores terms & conditions before purchasing